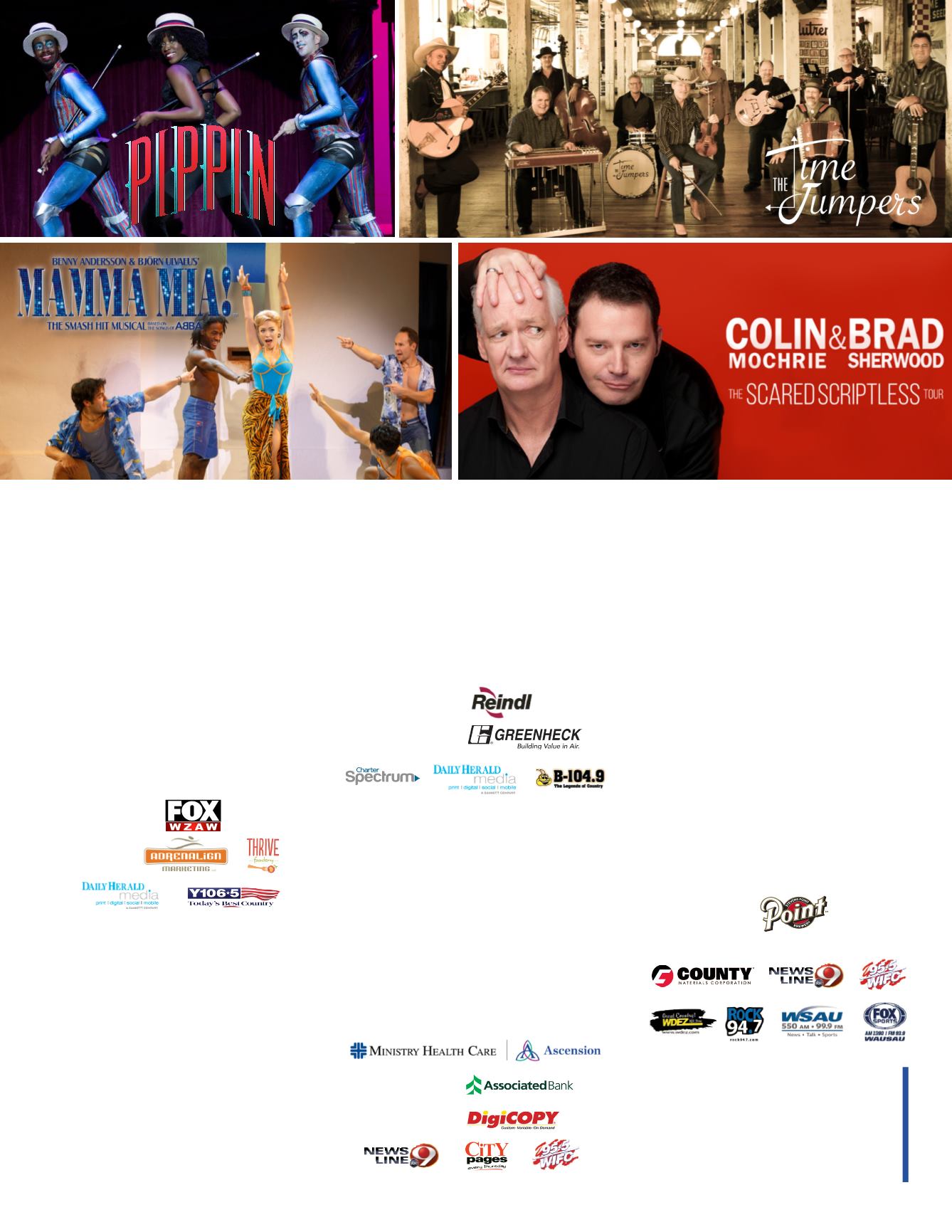 swing to the stage; and are made up of ten
incredible musicians, including country
legends Vince Gill, "Ranger Doug" Green,
Kenny Sears, Paul Franklin and more!
You won't want to miss this rare chance to
see Vince Gill and The Time Jumpers outside
of the Music City! It's a not-to-be-missed,
best-of-the-best night of country direct from
Nashville!
MAMMA MIA!-
SOLD OUT
Thursday, May 11 - 7:30pm
Fall in love with the music, the story, and
the characters that make MAMMA MIA!
the ultimate feel good show! It's the classic
show you love: ABBA's greatest hits woven
into a smash hit Broadway musical about a
daughter's dream, a mother's secret, and a
trip down the aisle you'll never forget!
6
JUST ANNOUNCED!
COLIN MOCHRIE &
BRAD SHERWOOD: THE
SCARED SCRIPTLESS TOUR
Sunday, May 7 - 7:30pm
Armed with nothing but their sharp wit,
comedians Colin Mochrie and Brad Sherwood
take to the live stage to create hilarious and
original scenes in their two-man show. Known
by TV audiences for their work on Whose
Line is it Anyway?, Colin & Brad improvise
new material every night from audience
suggestions and participation. "Interactive"
in every sense of the word, Colin & Brad will
take the audience on a comedic high-wire
act… just like a live version of Whose Line!
Get ready for a night of non-stop laughter for
all ages!
PIPPIN
Thursday, April 20 - 7:30pm
PIPPIN is a high-flying, death-defying hit
Broadway musical! Winner of four 2013
Tony Awards including Best Musical Revival,
this classic has been reinvented as "Pippin
for the 21st century" (New York Times).
Cirque-infused choreography will leave
you captivated in a world of extraordinary
acrobatics, wondrous magical feats and
soaring songs from the composer ofWICKED.
Hailed by audiences and critics alike, this
"eye-popping, jaw-dropping extravaganza"
is unlike anything Broadway has ever seen!
THE TIME JUMPERS
Thursday, April 27 - 7:30pm
When country superstar Vince Gill and
his friends started the Time Jumpers in
Nashville, it was simply a way for them to get
together to play music. Little did they know
that they had formed a country super group
that would develop a rabid following, sell out
a weekly Nashville show and earn Grammy
nominations for their songs.
The multiple award-winning Time Jumpers
bring the best of country, western, and
Featured Sponsor:
Featured Sponsors:
Presenting Sponsor:
Sign up for our e-mail and
never miss an
announcement
again!
Presenting Sponsor:
Presenting Sponsor:
Featured Sponsors:
Presenting Sponsor:
Featured Sponsors: