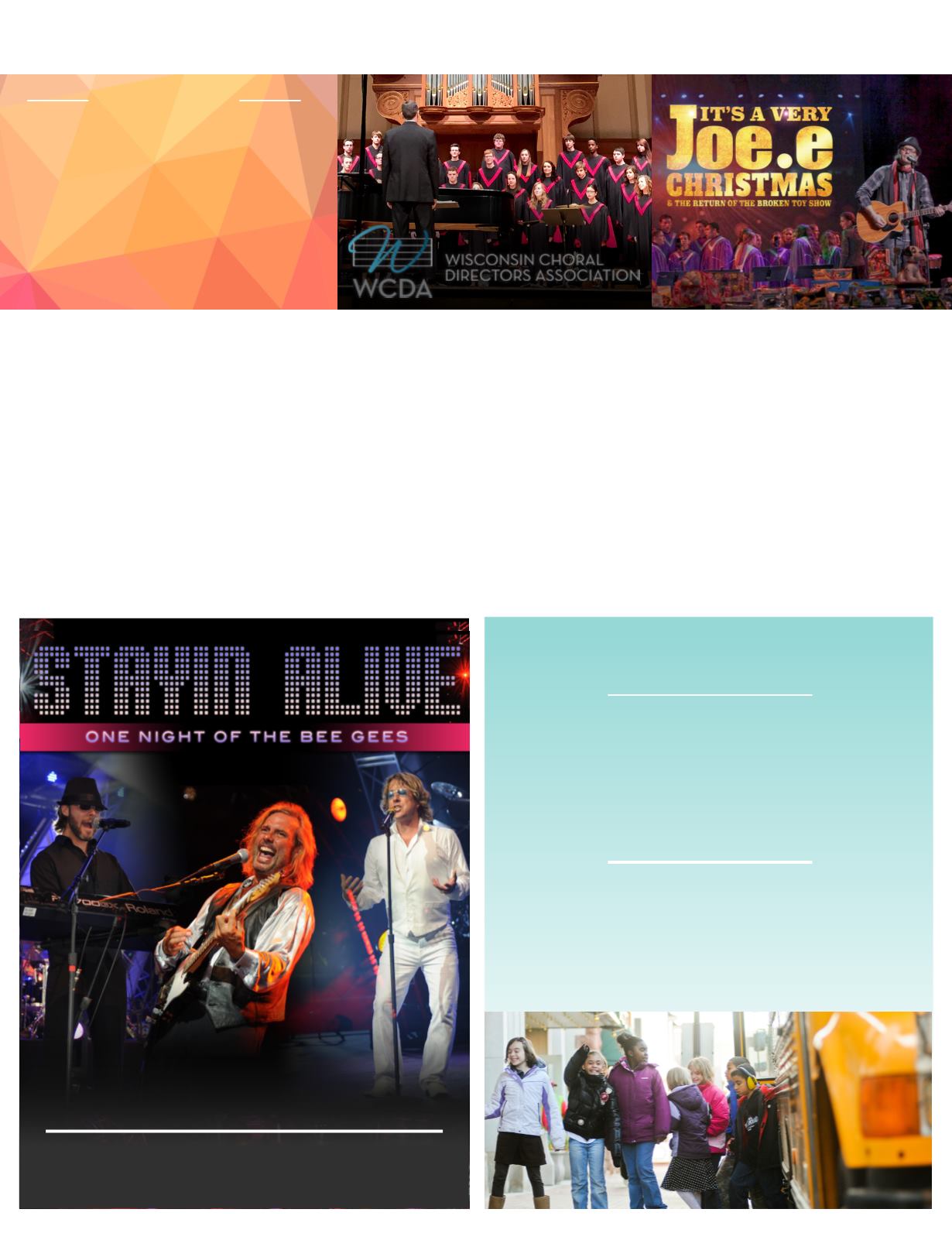 STATE CHORAL
CONVENTION
JANUARY 6-7, 2017
WISCONSIN CHORAL DIRECTORS
ASSOCIATION
The WCDA will be hosting their annual
choral convention this January at the Grand
Theater, bringing over 600 of the state's
best vocal students to Wausau.
The weekend will feature a headlining
performance by Cantus, hailed as the
"premier men's vocal ensemble in the
United States."
A VERY JOE.E CHRISTMAS
DECEMBER 14, 2016
JEM PRODUCTIONS
Returning to The Grand for its third year,
It's a Very Joe.e Christmas brings a night of
holiday celebration benefitting the Toys for
Tots of Marathon County.
Nearly forty artists will take the stage,
backed by full video projection, a ten piece
house band, and hundreds of donated
toys! Admission for the event is free with a
donation to Toys for Tots. All ages invited.
THE GRAND'S 10x10 SERIES
EMERGING ARTISTS|UNIQUE SPACES
SOMETHING DIFFERENT
As part of our mission to keep the arts
accessible to all, The Grand is proud to
introduce the 10x10 Series, a pop-up
concert series that brings emerging artists
to the historic Grand Theater. General
admission tickets just $10 in advance and
$15 at the door! Experience The Grand like
never before!
To learn more about upcoming shows,
follow The Grand on Facebook!
10
10
S E R I E S
x
THE GRAND'S
STAYIN' ALIVE
A TRIBUTE TO THE BEE GEES
THURSDAY, JANUARY 12 | 7:30PM
Tickets available at the Grand Theater's Ticket Office
or online at
www.grandtheater.org
GIVING TO THE GRAND
Our performances and outreach
programs depend on you.
Your support is vital to bringing
the best of the performing arts to
North Central Wisconsin.
How to Donate:
Online:
www.grandtheater.org
By phone: 715-842-0988/ 888-239-0421
By mail: 401 Fourth Street, Wausau, WI 54403