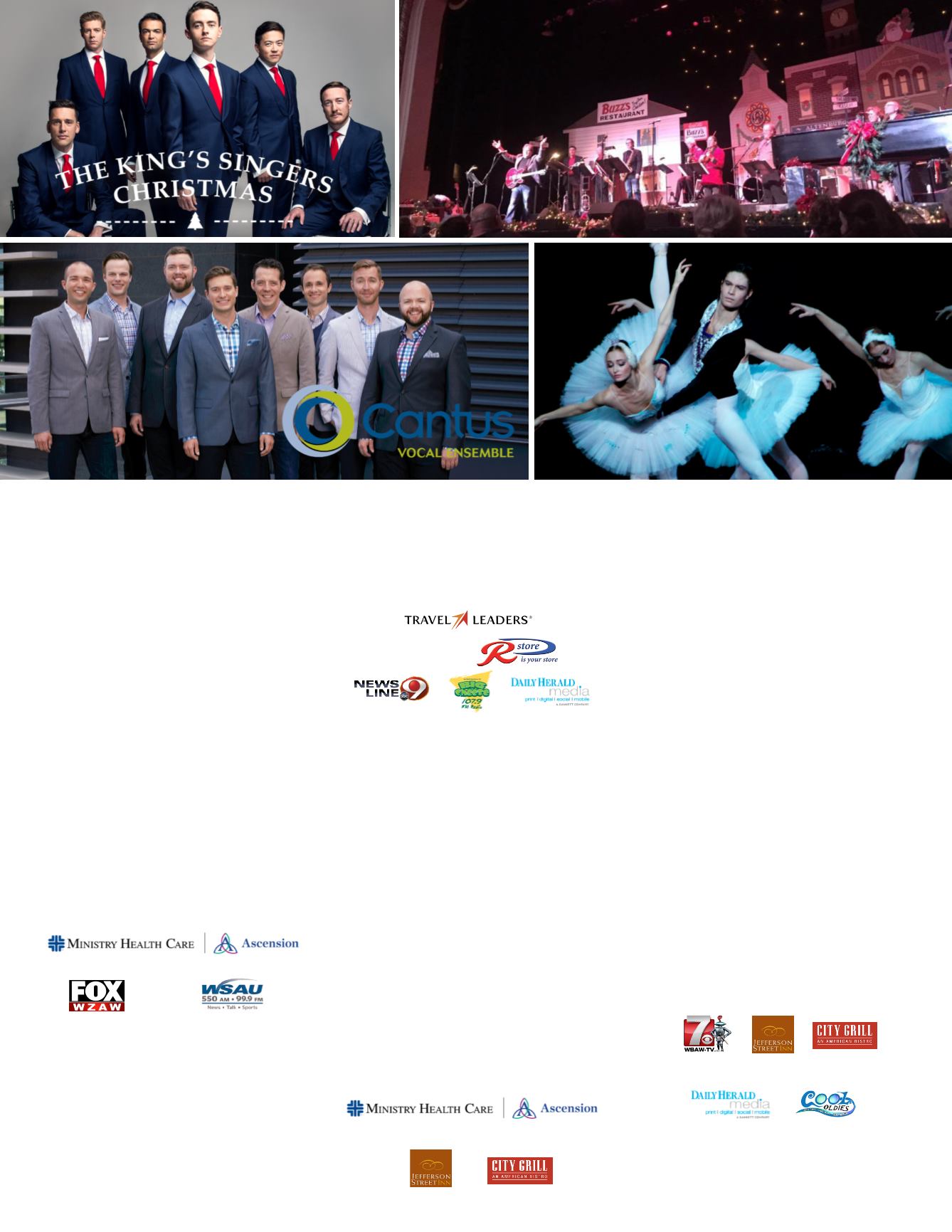 RUSSIAN NATIONAL
BALLET THEATRE:
SWAN LAKE
Monday, January 16 - 7:30pm
This esteemed Russian ballet company
brings to the Grand Theater one of the most
magical and beloved works from the classical
ballet repertoire: Swan Lake.
Standing the test of time, Swan Lake
continues to amaze audiences near and
far. With majestic choreography by Petipa,
unforgettable score by Tchaikovsky, and
exquisite costumes and sets, it is easy to
see why Swan Lake continues to earn the
adoration of classical ballet enthusiasts and
attract newcomers to this magnificent art
form. Come get lost in the magical story of
Swan Lake!
Join us prior to the show for an exclusive
wine and spirits tasting! Limited spots
available. Call our ticket office for pricing and
more information.
THE KING'S SINGERS
CHRISTMAS
Wednesday, December 7 - 7:30pm
It's a holiday celebration with harmonies
fit for a king! With a variety of music from
Tchaikovsky to Lawson, to all of your holiday
favorites, The King's Singers' ability to create
a full choir sound will leave you breathless.
For more than 40 years, this remarkable
sextet has maintained their place at the top of
the choral world, delighting audiences across
the globe with their melodies and irresistible
charisma. If you enjoyed the sold-out Vienna
Boys Choir performance last season, you
won't want to miss this holiday gem!
Get to the theater early for a full holiday
celebration! Enjoy carriage ride around
Downtown Wausau, caroling with Wausau
Conservatory of Music in the Great Hall, and
more!
THE JOHN ALTENBURGH
CHRISTMAS EXTRAVAGANZA-
SOLD OUT
Friday, December 16 - 7:30pm
After decades of sold-out performances, The
John Altenburgh Christmas Extravaganza
returns to The Grand with an all-new show!
A true Wisconsin Christmas tradition, this has
long been the hottest ticket in town. Nothing
says Christmas in Wausau like The John
Altenburgh Christmas Extravaganza!
CANTUS
Friday, January 6 - 8:00pm
Over 600 of the state's best vocal students
will come to Wausau this January for the
Wisconsin Choral Directors Association state
convention. The Grand is proud to partner
with the WCDA to present the convention's
headlining artist, Cantus.
Based out of Minneapolis, the group is
recognized around the world for their
programmatic versatility, artistic excellence,
and charismatic personality. Bringing
their "No Greater Love Than This" Tour to
Wausau, the performance will explore the
camaraderie, bravery, honor, and loss of
soldiers in times of both war and peace. With
creative themes, engaging performances,
and vocal virtuosity, Cantus will deliver an
evening of unforgettable music.
3
THE JOHN ALTENBURGH
CHRISTMAS EXTRAVAGANZA!
SWAN LAKE
Featured Sponsor:
Presenting Sponsor:
Featured Sponsors:
Presenting Sponsor:
Presenting Sponsors:
Presenting Sponsors:
Featured Sponsors: