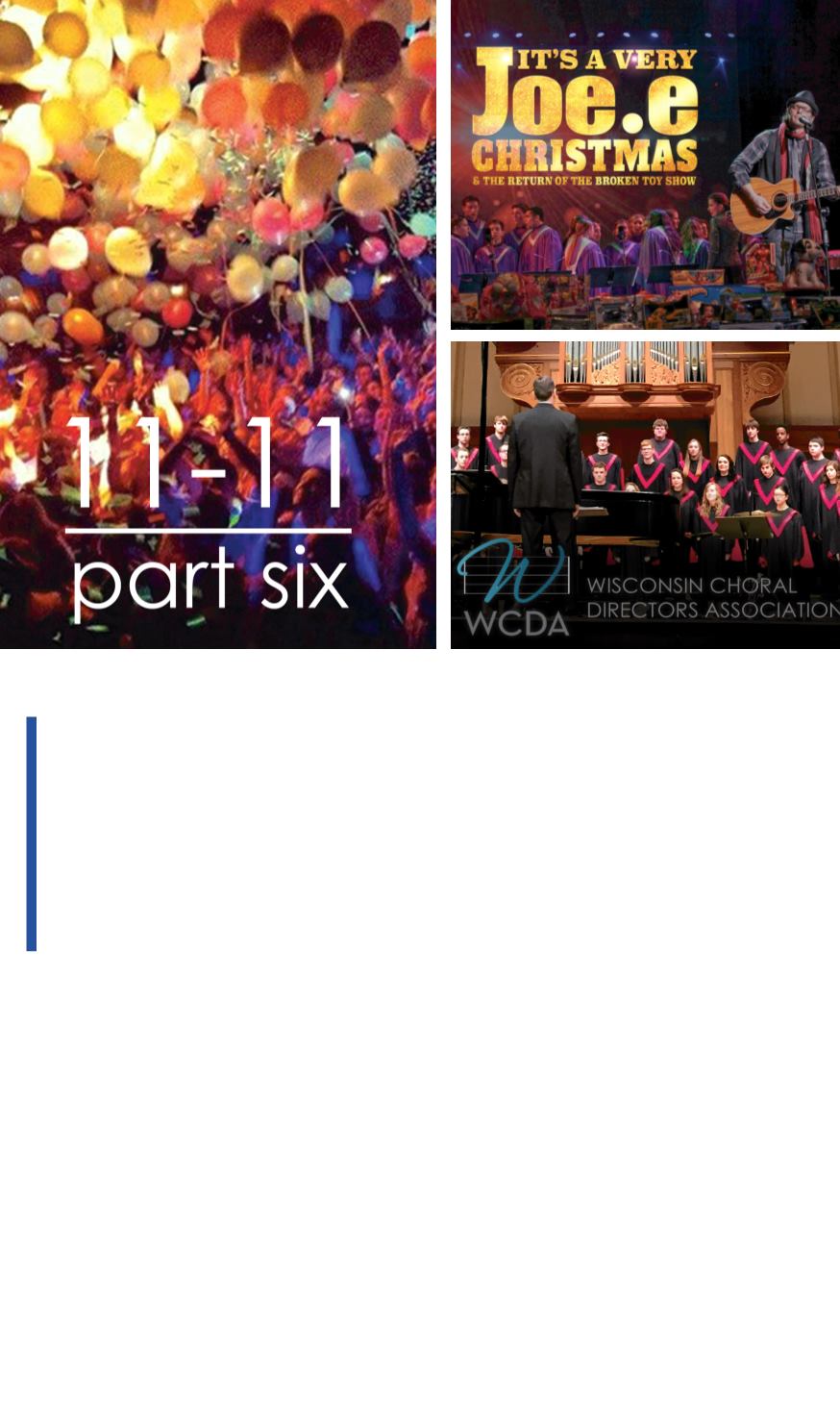 A VERY JOE.E CHRISTMAS
DECEMBER 20, 2016
JEM PRODUCTIONS
Returning to The Grand for its third year, It's a
Very Joe.e Christmas brings a night of holiday
celebration benefitting the Toys for Tots of
Marathon County.
Nearly forty artists will take the stage, backed
by full video projection, a ten piece house band,
and hundreds of donated toys! Admission for the
event is free with a donation to Toys for Tots. All
ages invited.
STATE CHORAL CONVENTION
JANUARY 6-7, 2017
WISCONSIN CHORAL DIRECTORS
ASSOCIATION
The WCDA will be hosting their annual choral
convention this January at the Grand Theater,
bringing over 600 of the state's best vocal
students to Wausau.
The weekend will feature a headlining
performance by Cantus (pg 16), hailed as the
"premier men's vocal ensemble in the United
States."
11-11 PART SIX
NOVEMBER 5, 2016
EVOLUTIONS IN DESIGN
Don't miss Wausau's biggest party! Join
evolutions in design
at the Grand Theater
for the sixth annual 11-11 Party. It's a night
of entertainment unlike any other, featuring
dancing, music from Boogie and the Yo-
yo'z, and the famous balloon drop!
All proceeds benefit the Grand Theater.
Tickets on sale October 1st, for $16 dollars
in advance and $32 night of event (if any
remain). This event will sell out quickly so
get your tickets early!
SPECIAL
EVENTS
THREE SPECIAL EVENTS
THE GRAND IS PROUD TO
BE A PART OF
34