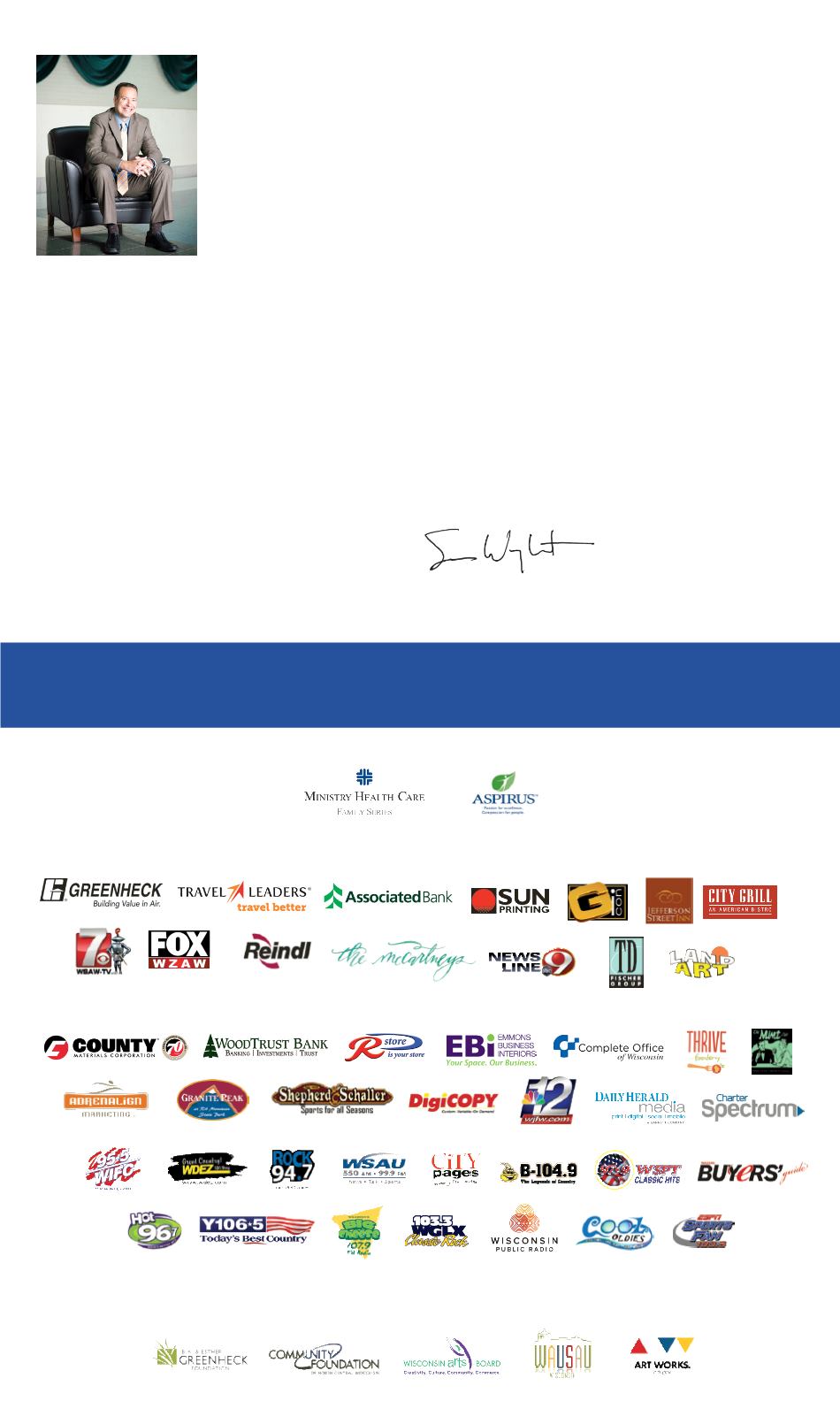 One of the hardest things to do in the performance business is to come
up with an encore. We certainly know the feeling this year. The 2015-16
season was one of our best ever—a dozen sellouts, recognition as one
of Pollstar's Top 225 touring theaters, world-class performances and
incredible crowds. It's a season we're extremely proud of, and very happy
to have shared with all of you.
The good news is that we feel as though the 2016-17 season you'll find in
this publication is more than just a suitable encore—it's a season we are
excited about and think you will enjoy. The season features something
for everybody—from the Farewell Tour of Broadway's Mamma Mia, to the
incredible musicianship of The Time Jumpers, a trio of great holiday season shows and much
more across the 21 performances.
We hope that you'll be a frequent visitor to our newly redesigned (and now mobile-friendly)
website
(www.grandtheater.org
) as well as our social media in the weeks and months to come.
We'll be adding performances throughout the year as well as special events around many
shows. In addition, you'll want to join our email list if you haven't already to make sure you are
the first to know about upcoming events, show-night updates, and exclusive pre-sales, as well
as to receive our new monthly e-magazine about everything going on at The Grand,
Encore
.
The season would not be possible without the support of our donors, sponsors, and of course,
all of you. We thank you for your continued support, and hope that we'll see you at The Grand
frequently this season.
Sean Wright
Executive Director
Featured Sponsors
Presenting Sponsors
The entire season at The Grand is supported, in part, by the WisconsinArts Board with funds from the State of Wisconsin and the National Endowment for theArts. These performances are also supported,
in part, by the CommunityArts Grant program of the Community Foundation of North Central Wisconsin, the B.A. & Esther Greenheck Foundation, and the City of Wausau's Room Tax Funding.
Series Presenters
The Grand would like to thank the businesses and media partners
that make the 2016-2017 performances possible.
2