Security Policy
For the safety of all patrons, staff, and performers, The Grand has adopted enhanced security measures for the upcoming season. We take patron safety very seriously, and we have elected to join the ranks of the hundreds of venues across the country that have been implementing new security procedures. We have worked with industry leaders to develop security procedures which we hope will provide peace of mind for our patrons, while also providing the same exceptional guest experience they have come to expect at The Grand.
As of October 2019, all persons and bags are subject to search upon entry. Bags or purses larger than 8.5″ x 11″ x 5″ will not be allowed in the venue. The Grand asks patrons to leave oversized bags in their vehicle.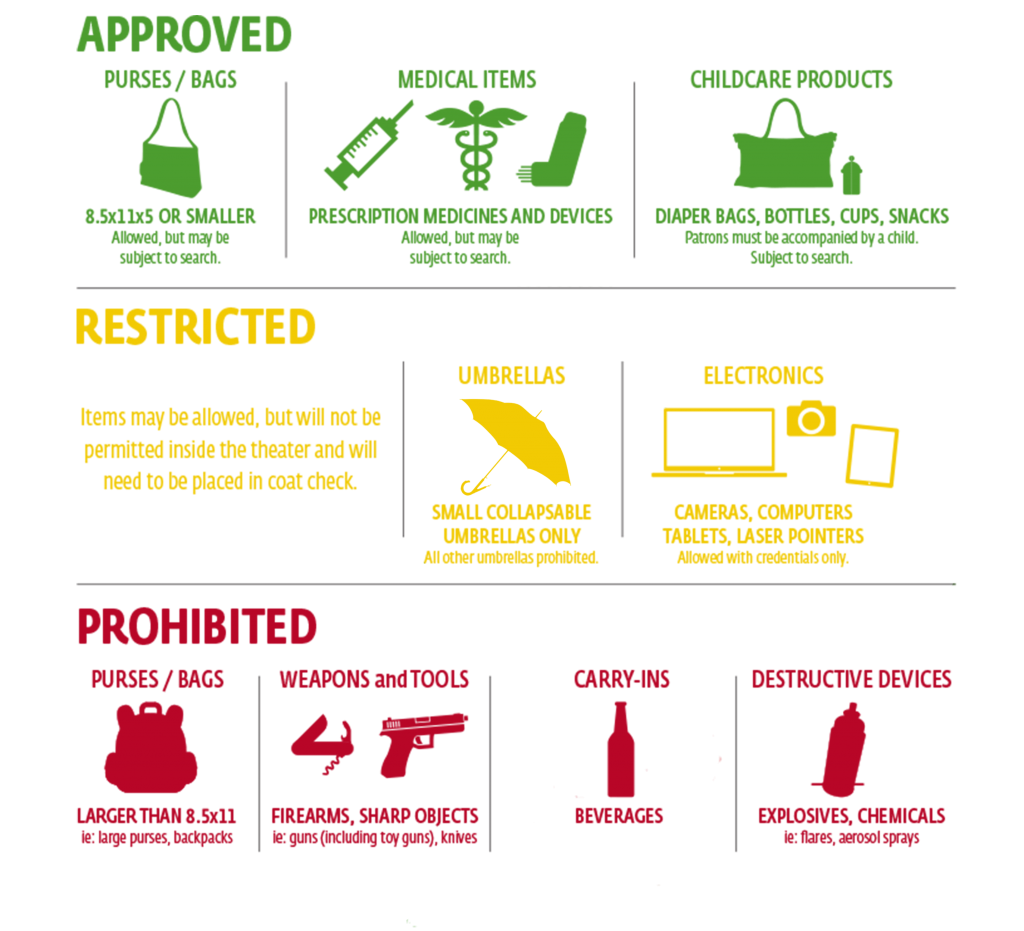 When you arrive at The Grand for a performance, a representative from the theater will visually examine each patron's bag to see if they meet the size guidelines, and also to see if they contain any prohibited items (listed above). They may ask you to open pockets for them, but they will not touch any of your personal items. If any weapons, carry-ins, or other prohibited items are found, the representative will ask the patron to either dispose of the item or take it back to their vehicle.
Frequently Asked Questions
How will these security updates affect me?
It may take a little longer to move through the security screening process while entering the venue. You will be asked to open your bag, and you may be asked to return items to your vehicle, but you will also have greater peace of mind knowing we've made your safety a priority when you come to enjoy a show!
When do you recommend we arrive to ensure we get to our seats on time?
Doors to the Great Hall open one hour prior to each performance. We recommend patrons arrive at least 30 minutes prior to the performance to find parking, go through the security screening process, purchase refreshments, and find their seats.
What happens if I arrive and my bag, or an item in my bag, is not permitted?
If your bag is larger than 8.5" x 11" x 5" (a standard piece of paper), or items you are bringing are prohibited, you will be asked to return the bag and/or prohibited items to your vehicle.
What if I have a medical device or need to have medical items available to me during a performance?
Medically necessary devices, prescriptions, and other related items will be permitted in the theater. You may be asked to show your medical ID card or other identifying information before entering, and bags or purses carrying such items are subject to inspection.
Can I bring my cell phone?
Yes, cell phones are still allowed in the theater, but as always, we ask that they are kept on silent during the performance.
Can I still bring my refillable Grand Theater souvenir cup?
Yes, you may continue to bring your (empty) refillable souvenir cups and to fill them at any of The Grand's bars.
Can I bring a diaper bag?
Diaper bags will be searched, but allowed in the theater for families with infants or toddlers.
I'm hosting a wedding or event at The Grand. How will the new security procedures affect my guests?
Security procedures are tailored to each event in the venue. Please contact your event planner, or call 715-842-0988 with additional questions.
What if I still have questions about this new policy?
We are happy to answer any and all questions about our enhanced security procedures. Please call 715-842-0988 or email info@grandtheater.org with your inquiries.