DIGITAL TICKETING
The Grand is pleased to offer digital ticketing options to patrons for select shows*. Patrons may now select 'Digital - True Ticket' when checking out online or tell Ticket Office staff when purchasing in person or by phone at 715-842-0988.
Grand Theater digital tickets are a secure, safe, and easy way to access and share tickets for upcoming performances and events. There's no need for printing, mailing, or picking up tickets from the box office**.
HOW TO ACCESS YOUR DIGITAL TICKETS:
Use your mobile phone web browser to log onto wallet.grandtheater.org with your grandtheater.org account information. A link to your wallet can also be found in your order confirmation and in the pre-show email sent 48 hours before showtime.
Once logged in, your tickets for all upcoming performances you've requested digital delivery for will be displayed in "My Events."
Tap on a performance to see your digital ticket QR code(s), show them to an usher for scanning, and swipe left for all additional tickets for your performance.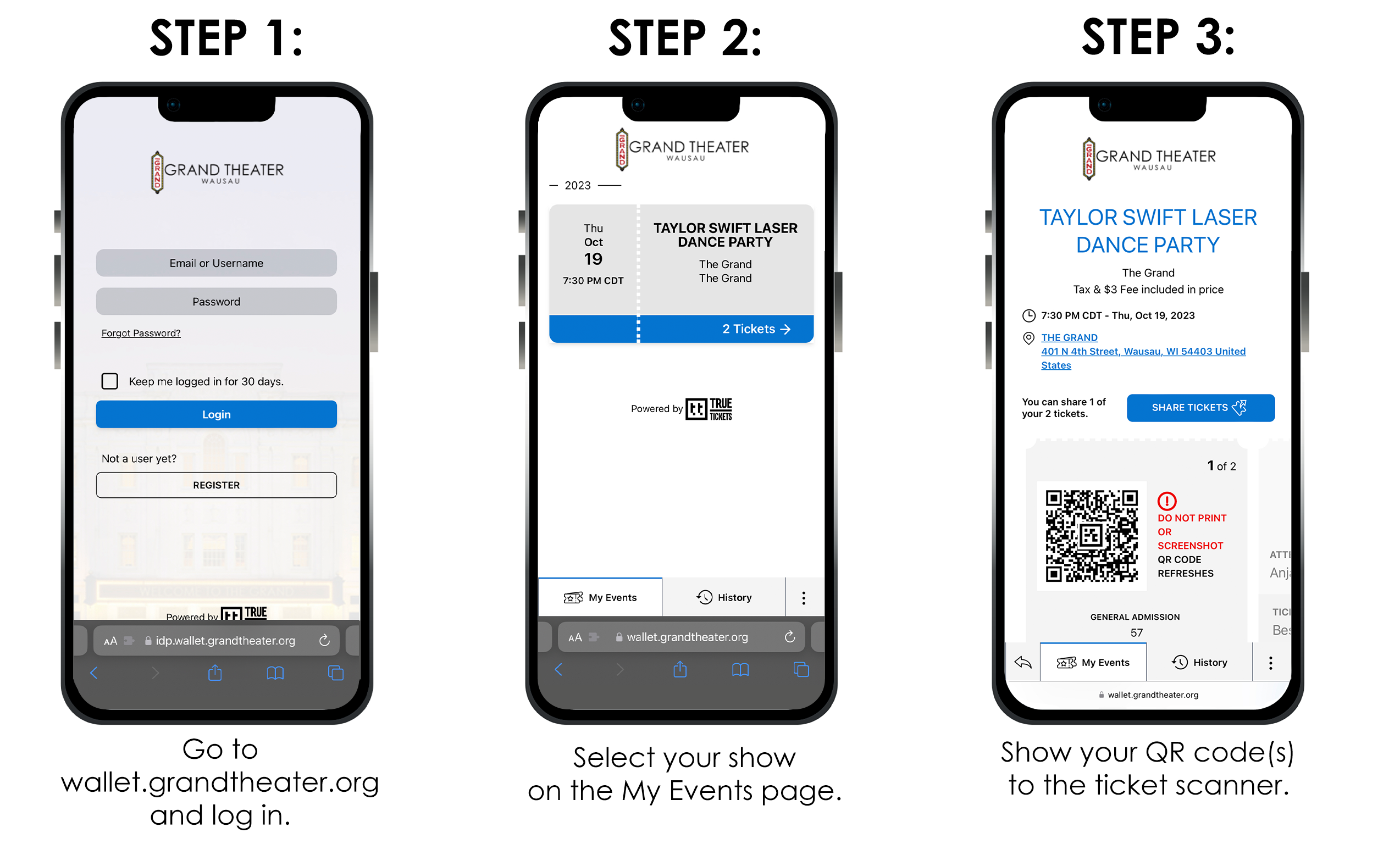 Tickets cannot be purchased through the digital wallet. However, you can register there to create a Grand Theater account if you do not already have one. Use this account to purchase tickets at tickets.grandtheater.org and/or receive shared digital tickets (see below.)
*Digital tickets are available at this time only for Taylor Swift Laser Dance Party (October 19), For Kids From 1-92 (December 14), and Blippi: The Wonderful World Tour (June 11). Digital ticketing launches for all shows in January 2024.
**The Ticket Office will be available on site for all ticketed events and by phone during business hours to assist with accessing digital tickets or printing physical tickets. Please call the Ticket Office at 715-842-0988 or email info@grandtheater.org.
Bought tickets for someone else? Can't make the show?
See our handy step-by-step guide to share or receive Grand Theater digital tickets. This sharing feature is not intended for ticket resale and does not transfer ownership of the ticket(s).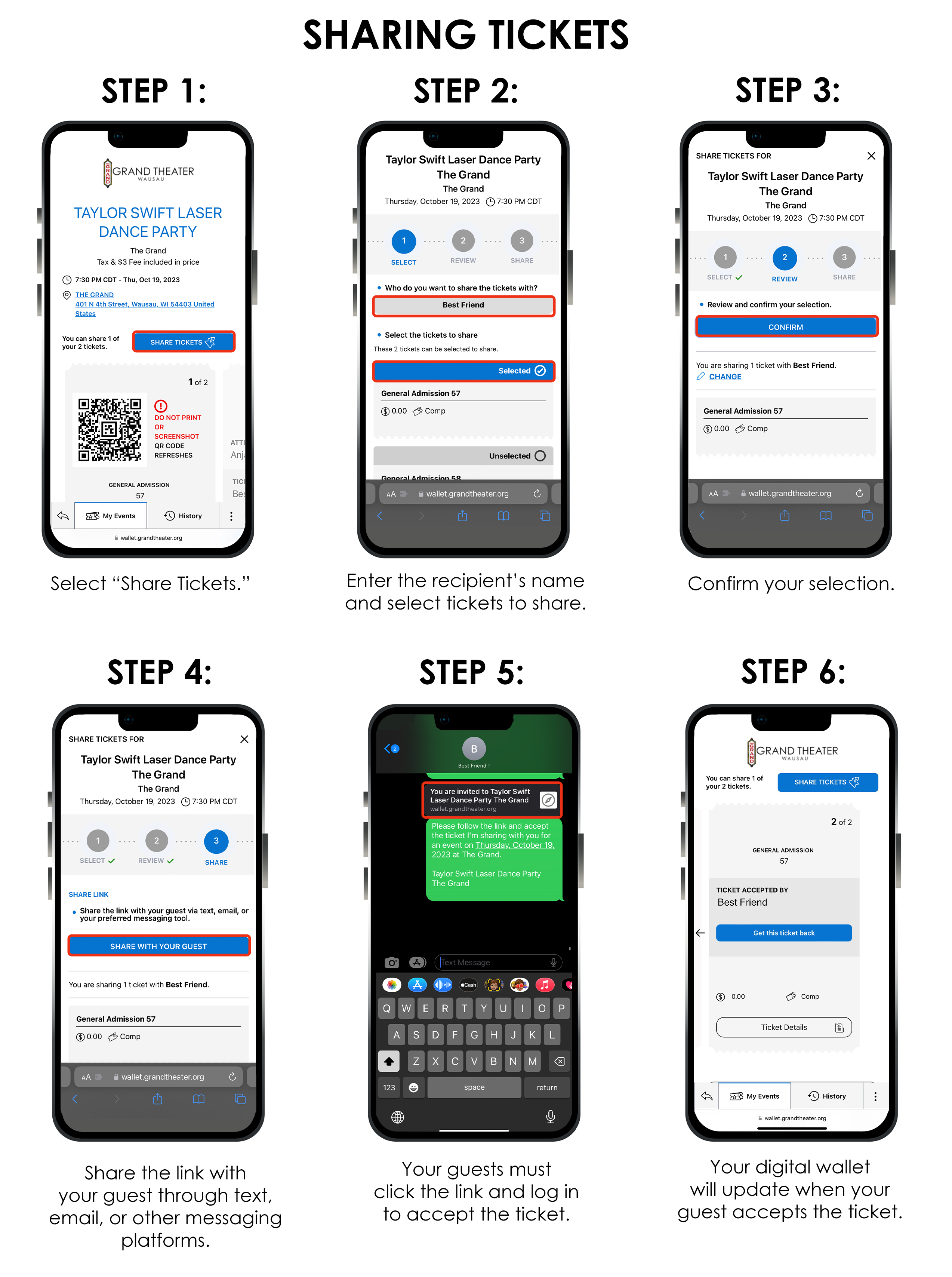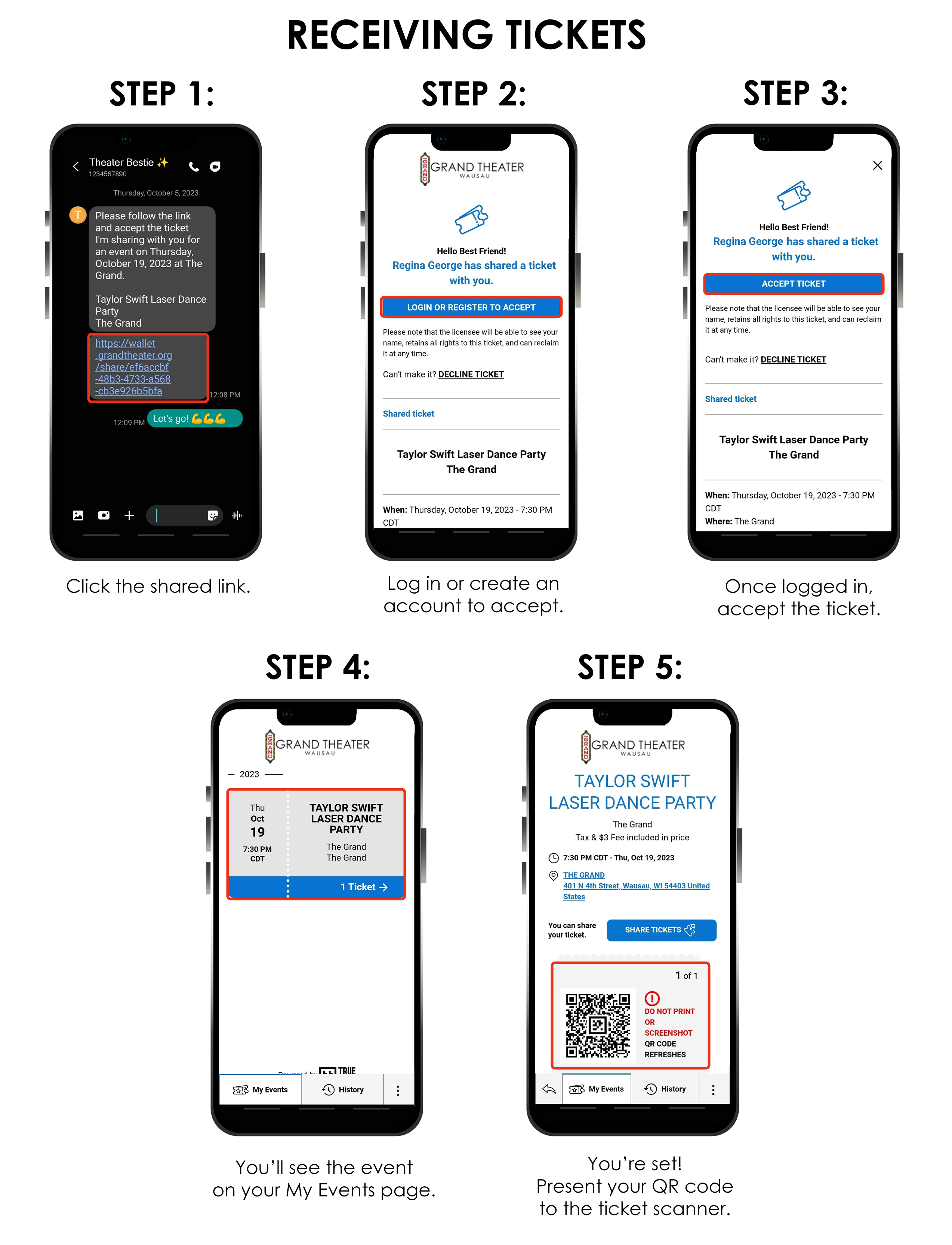 A few tips before the show starts:
Do not screenshot or print your QR code(s). These refresh every 30 seconds. Screenshots and printouts will not be accepted.
Do bookmark wallet.grandtheater.org or add to your smartphone's home screen for quick access on the day of show.
Do select "Keep Me Logged In For 30 Days" to save time on the day of show.