Bridge Clinic Community Engagement Series
SERIES PRESENTER

The Grand is more than just a theater. The Bridge Clinic Community Engagement Series pushes the performing arts from the stage out into the community, helping to fulfill The Grand's mission to ENTERTAIN, EDUCATE, and ENRICH the community.
Community events like dance classes, film screenings, pop-up exhibits, lectures, and more create opportunities for audience members to connect with performances in new and exciting ways.
Check back throughout the Season to see what unique events we're planning!
Click HERE to view past events.
Sunday, October 10 - 5:00 PM
Sugar, butter, flour… Get ready to see WAITRESS at The Grand with this special pie-baking event! Award-winning baker Shawn Bolduc, owner of The Baked Lab in Madison, will teach participants how to bake the perfect Caramel Apple Pie over Zoom! Just register HERE, pick up your ingredients (a list will be provided in advance via email), and hop on Zoom on Sunday, October 10th to enjoy a cozy, free, baking class at home!
It's amazing what baking can do…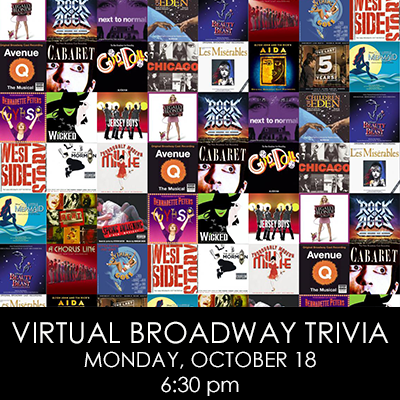 Monday, October 18 - 6:30 PM
Calling all musical theater fans! Show off your Broadway knowledge through this virtual trivia event! Test your trivia skills with questions ranging from Fiddler On the Roof, Bernadette Peters, Hamilton, and beyond!
Virtual Broadway Trivia will be hosted via Zoom broadcast and played on a smartphone-based trivia game called Kahoot. Join us for this fun evening of trivia to see who will be crowned the Music Master! Register today HERE.