Bridge Clinic Community Engagement Series
SERIES PRESENTER

The Grand is more than just a theater. The Bridge Clinic Community Engagement Series pushes the performing arts from the stage out into the community, helping to fulfill The Grand's mission to ENTERTAIN, EDUCATE, and ENRICH the community.
Community events like dance classes, film screenings, pop-up exhibits, lectures, and more create opportunities for audience members to connect with performances in new and exciting ways.
Check back throughout the Season to see what unique events we're planning!
Click HERE to view past events.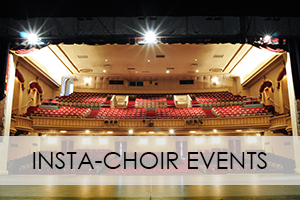 The Grand Theater
Dates & Times TBA
Inspired by the internet phenomenon of "flash mobs", Insta-Choir events are spontaneous singing sessions that are held at The Grand Theater. If you've signed up for Insta-Choir SMS notifications, you'll receive a text message with a date and time. If you're free, you come to The Grand, pick up your sheet music, and learn to sing a choral crowd-pleaser with the other members of that day's Insta-Choir. And that's it! You go your separate ways, until the next time...
Click here to learn more!