The Arts In Education Series Goes Virtual!
Thanks to the support of Aspirus, two new virtual performances will be available to educators and students free of charge to use in classrooms, at home, or wherever you're learning this year!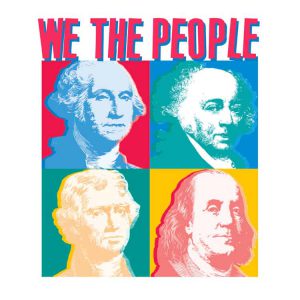 We the People:
America Rocks!
Available October 25 - November 3
Best for Grades  4 - 8
Virtual Performance

With the presidential election in full swing, now is the perfect time to bring American civics lessons to life with We the People, a musical revue that makes social studies exciting and accessible.
Students will have a blast learning about the three branches of government, the First Amendment, presidential elections, democracy, the judicial process, and more. Barreling through a variety of musical styles relevant to today's youth, including rock, rhythm-and-blues, and hip-hop, We the People instills American pride in audiences of all ages—and inspires them to get involved and make a difference.
Miss Nelson Has a Field Day
Available November 2 - 13
Best for Grades  K - 5
Virtual Performance

Welcome to Horace B. Smedley School, where the Smedley Tornadoes have never won a football game. In fact, they have never even scored a single point! With such a poor record and a team that is out of control, kind-hearted Miss Nelson comes to the rescue when she enlists the help of her alter ego, the ill-tempered Miss Viola Swamp, to coach the team and whip them into shape.
Considered by all to be "the meanest substitute teacher in the whole world," Coach Swamp applies her trademark discipline to the players' training, demanding tough exercises and no back talk. In the end, the team changes their attitude, pulls together, sharpens their skills, and manages to win the biggest game of the year.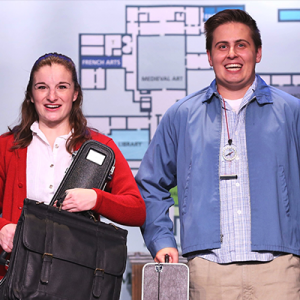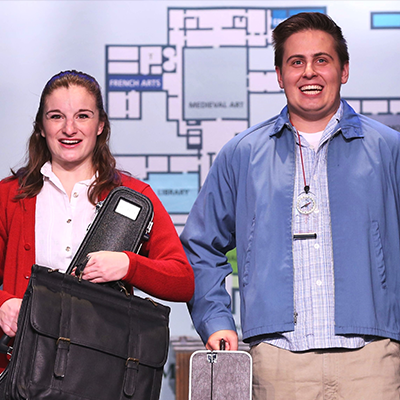 From the Mixed-Up Files of
Mrs. Basil E. Frankweiler
Available November 2 - May 28
Best for Grades 2 - 6
Virtual Performance

It is 1967 at the Metropolitan Museum of Art (The Met) in New York City. Mrs. Basil E. Frankweiler is a collector of fine art, facts, figures, and secrets. She narrates the action of ArtsPower's musical play through a letter she is writing to her lawyer, whom she calls Saxonberg.
After she learns about the adventures of Claudia and Jamie Kincaid, two children who have run away from home to live at The Met for a few days, Mrs. Frankweiler needs her lawyer to change her last will and testament. Among her many files, she will now include the story of how Claudia and Jamie run away, hide out and sleep over at The Met, investigate whether a statue called Angel was carved by Michelangelo, and, in the end, become a terrific sister and brother team.
2020-21 Arts In Education Series
As a nonprofit arts leader, the Performing Arts Foundation is committed to providing students with access to professional artists by offering high-quality matinee performances. The arts have many benefits, helping students to become better equipped in the classroom and more prepared for life.
SERIES SPONSOR:
Bill Blagg's Magic in Motion
January 22, 2021 - 10:00 AM &
1:00 PM (LIMITED SEATS REMAINING)
Grades 3 - 7
Magician extraordinaire Bill Blagg returns with a brand-new show! Bill Blagg's Magic in Motion melds the spectacle of magic with the real-life wonders of physical science to create an unbelievable educational experience.
In this highly visual, interactive show, students will be on the edge of their seats as they explore how science creates magic right before their very eyes!  Students will learn first-hand how to create illusions using core scientific principles such as force, energy, friction, motion, and more.  Together with Bill they will apply these principles in a variety of magical experiments that will bend the laws of science and create the impossible!
Magic in Motion is a magical, educational experience that is designed to inspire students to investigate how physical science can create magic and play an important role in their daily lives.
Pete's Big Hollywood Adventure

March 17, 2021 - 10:00AM (SOLD OUT) & 1:00PM
Grades Pre-K - 2

Lights! Camera! Action! Everyone's favorite cool blue cat returns to The Grand with a brand-new production! Brought to life by the same team that produced TheaterWorksUSA's original Pete the Cat musical, Pete's Big Hollywood Adventure follows Pete the Cat and his buddy Callie as they sneak into the Hollywood Studios and get lost in the world of the movies.
Join Pete, Callie, Grumpy Toad, Gus the Platypus, Ethel the Apatosaurus, and Robe-Pete in this rockin' new musical adventure that features several fun-filled Pete the Cat books including Cavecat Pete, Pete the Cat and the Treasure Map, and The Cool Cat Boogie. Set sail on the high seas, learn a groovy new dance, and visit prehistoric times with Pete and his pals!
Laura Ingalls Wilder 
April 14, 2021 - 10:00AM & 1:00PM
Grades 2 - 5

Laura Ingalls Wilder chronicles the exciting adventures of the Ingalls family as they travel across the prairie in search of a little house to call home.
Based on Laura's own childhood experiences, this original musical follows tomboyish Laura, her older sister Mary, her Ma, and her Pa as they travel across the unsettled frontier of the late-1800s American Midwest. Numerous obstacles test their unwavering "pioneering spirit," but they soon learn that together than can overcome anything, and Laura discovers her passion and talent for storytelling.
Audiences of all ages will love the uplifting story of how one of America's most treasured authors came to be!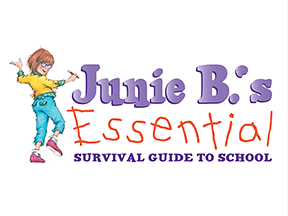 Junie B.'s Essential Survival Guide to School
April 16, 2021 - 10:00AM & 1:00PM
Grades K - 4

Now that Junie B. Jones has been going to school for over one-anda-half years, who better to write the book on EVERYTHING you need to know?
From bus rules and Band-Aids to carpools to cookies, Junie B. and friends deliver the definitive word on surviving and thriving in style. With a jillion tips, tricks, and trip-ups, Junie B. shares her hard-won expertise and shows us all how school is sometimes scary, sometimes super-fun, and ALWAYS something to sing about!
Anne Frank:
Voices from the Attic
April 19, 2021 - 10:00AM & 1:00PM (LIMITED SEATS REMAINING)
Grades 5 & Up
You have never heard The Diary of a Young Girl told quite like this. Anne Frank's historical account of her time in hiding in Nazi Germany is presented in her own voice, but with the supporting characters in her story played by a multi-ethnic ensemble that includes survivors of the 1915 Armenian genocide, the Bosnian civil war of the 1990s, and the ethnic cleansing in Rwanda.
Anne Frank: Voices from the Attic demonstrates how the Frank family was one of many families throughout history who suffered at the hands of ignorance and hatred. In each case, these survivors overcame their ordeals by embracing Anne's philosophy of "thinking themselves out" of their situation, and they celebrate her resilience and her refusal to give in to hatred.
This powerful production is designed to spark discussions about the many faces of genocide, and to show just how easily the flames of ethnic hatred can spread until they're beyond control.
Resources for Educators
In addition to providing study guides for each Arts In Education Series show, The Grand offers In-School Workshops to prepare students for each performance. Click below to learn more about these opportunities to enhance students' theatre-going experiences.