Thank you for being a part of our story!
"I felt like my world opened up after being introduced to the performing arts." These are the words of a patron who attended a performance on our Main Stage Series, and now brings her family to The Grand. With your help we can continue to bring amazing artists to the community, with the hope of inspiring others just like this patron.
More than a theater, The Grand is a community destination that brings unique experiences to Wausau on and off the stage. From nationally touring artists to our local partners, we provide interesting ways for the community to connect, explore creativity, and thrive.Community support helps make it possible for The Grand to bring people together and experience the power of the performing arts. Donate today at bit.ly/TheGrandTheaterDonate.

Posted by Grand Theater Wausau on Tuesday, April 2, 2019
The Grand Theater is celebrating over 90 years of excellence and we need your support to make sure it remains an extraordinary place to come together and experience the arts for the next 90 years.
We depend on donations to support our mission to ENTERTAIN, EDUCATE and ENRICH the community by offering world-class programming, which develops a lifelong appreciation for the arts in its citizens and enhances the quality of life in the region, The Grand Theater strives to be a comprehensive arts destination. We need your support to keep the arts alive!
---
YOUR DONATION MAKES A DIFFERENCE!
• Last year over 17,240 students experienced the performing arts through the Arts In Education matinee series.
• 890 scholarships were awarded to students who couldn't afford to attend the matinee series with their class.
• 16 schools from across the entire region participated in the Jerry Awards program and Central Wisconsin Jerry Ensemble to develop their musical theater performance skills.
• Our community partners saved $134,337 in rent and fee abatements, which allowed them to call The Grand Theater their creative home.
• Last year $11,022 was donated to local charities supporting their fundraising efforts.
• Over 5,500 community members were impacted by the Community Engagement Series, which offered free and low cost events that push the performing arts from the stage out into the community.
Click on the 2018 Annual Report for more details.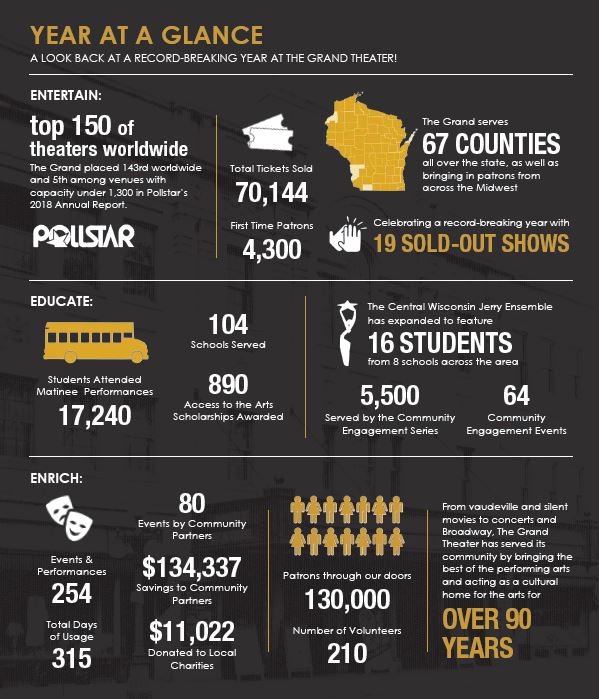 ---
What has been your experience at The Grand?
I have lived in Wausau for over ten years and have attended only two shows at the Grand; until this year. This year I bought tickets to ten shows and choose to support the Grand at the "Cameo" donation level. This is a great season!                                                                     - Sheila
I am the Education & Disabilities Specialist for Marathon County Head Start. We truly appreciate all the wonderful performances that are offered to our children in the community. We are extremely fortunate to have these opportunities through the Grand Theater.    - Nicole
I love that the Grand is so close to my home and they have excellent shows!! Great seating and excellent acoustics.                                                                                                                  - Rachel