It's not hard to find at-home entertainment these days. Every time you open Facebook, Instagram, or YouTube, it seems that another artist is planning an at-home live concert, and with live music venues closed for the foreseeable future, this is how we're going to have to enjoy performances for the time being. 
As important as these live-streamed concerts are for those of us who are self-quarantined at home, they are even more vital for the artists themselves. While we tune in to feel less alone, the musicians are working, and this may be the only work they have for weeks, or even months. So while we enjoy the plethora of online entertainment options available to us, we also need to make sure we're supporting the people who are creating it. If you watch a live-stream of a local musician, send them $5 on Venmo or PayPal, if you can. Buy their merchandise or become a patron on Patreon. Pay attention, and they will tell you what they need. 
Many of the recurring online concert series that I've compiled for this post are also fundraisers for other worthy causes, including providing COVID-19 relief across the country. Please consider donating to these causes, if you can.
Now, I have to start things off by mentioning The Grand's new virtual happy hour concert series, "Quaran-Tunes." We'll be featuring some of our favorite artists, many of them local and regional performers who have played on our stage in recent years, twice a week. You can catch the first "Quaran-Tunes" concert, featuring our friend Nick Anderson of Nick Anderson and the Skinny Lovers at 5:00 PM on Thursday, April 2. Please consider donating the cost of your happy hour drink either to show your appreciation to the artist for performing, or to provide COVID-19 relief in North Central Wisconsin.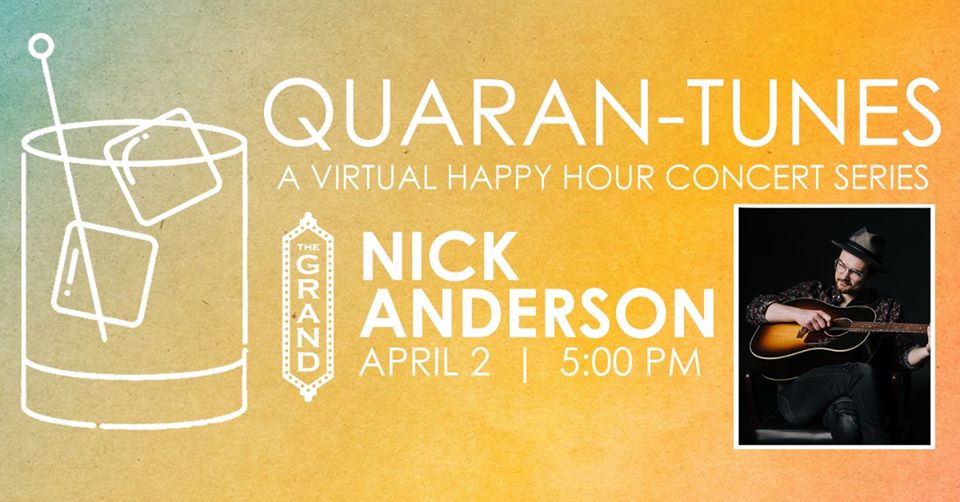 Check out some of these other major recurring online concert series:
•Billboard Live At Home

is streaming mini-concerts multiple times each day by artists like

Cold War Kids

,

Hunter Hayes

, and

JoJo

.

During their mini-concerts, each artist teams up with

Billboard

to raise money for a nonprofit partner of their choice, as well as answers questions submitted by fans watching from home.

•The Levi's brand has launched a series called "5:01 Live

" through its

Instagram account

that features a new artist each day. Levi's is also using this opportunity to raise funds for charities like the

MusicCares Coronavirus Relief Fund

and the

Global Citizen/WHO's Solidarity Response

.

•Global Citizen is also curating its own series of live-streamed concerts called Together At Home. So far, the series has featured performers like The Lumineers, Jon Batiste, and dozens of others.
•Verizon's #PayItForwardLIVE is a twice-weekly live-stream starring the biggest names in entertainment (Thursday, April 2nd's performer is Dave Matthews) supporting small businesses. For each tweet that includes the #PayItForwardLIVE hashtag, Verizon will donate $10 to America's small businesses.
•Rolling Stone has launched an Instagram TV series called "In My Room," which benefits the Sweet Relief Musicians Fund. The concerts air every Monday, Wednesday, and Friday on Rolling Stone's Instagram at 2:00 PM. Brian Wilson of the Beach Boys kicked off the series with an at-home concert last week.
•Live Nation has also introduced a collection of live-streams called Live From Home to keep fans connected with their favorite artists. This week's daily concert roundup includes streams from artists like Dolly Parton, Hozier, and Ben Folds.
•Jazz aficionados should look into the Live From Our Living Rooms festival, which runs April 1st through April 7th. The festival features dozens of talented jazz musicians (Chick Corea, Joe Lovano, and more) and all proceeds will go to provide grants to New York City freelance musicians.
•Martin Guitar company has also started a series called "Jam In Place" that has featured legendary guitarists like John Oates and Bon Jovi.
•The beloved American Public Media Series Live From Here (formerly known as A Prairie Home Companion) has transitioned and become Live From Home. This series features fantastic folk and Americana performers like Aoife O'Donovan and Margaret Glaspy and Julian Lage.
•NPR's popular Tiny Desk Concerts have now become Tiny Desk Home Concerts. You can now see artists like Margo Price and Michael McDonald of the Doobie Brothers perform in their living rooms.
If you STILL aren't sure what to watch on a given day, I've found both this list from NPR Music and Vulture Magazine's Instagram account to be very useful. Both channels are updated daily with newly announced concerts and other streaming entertainment options.
And, especially during the next few weeks, make sure you're following your favorite local and regional musicians on social media. This is likely where they'll be announcing online concerts, and it's where you'll be able to support them and the causes they care about!