North Central Wisconsin's best high school musical theatre performers get their chance to shine!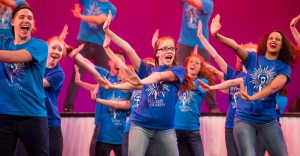 Starting this fall, the Northern Division of the Overture Center's Tommy Awards will be represented by The Grand's own Tommy Ensemble.  This premier performance ensemble will feature select musical theatre performers from area high schools participating in the Tommy Awards program, providing a chance for students from different high schools to work together to build their technical musical theatre skills. Members of the ensemble will be selected through auditions that will test the students' singing, acting, and dancing skills.
The Tommy Ensemble will allow students to gain experience with a wide variety of musical theatre pieces and roles, as well as provide unique opportunities to perform at a variety of events, including the 2018 Tommy Awards and Tommy Ensemble Cabaret in Madison, The Grand's own Tommy Awards events, and pre- and post-show events at The Grand's Season performances.
For more information on the Tommy Awards or Tommy Ensemble, contact Director of Community Engagement and Education, Katy Lang, at klang@grandtheater.org.