With Broadway musicals, Grammy-winning music legends, a stellar holiday lineup, and both traditional and cutting-edge performances you'll have to see to believe!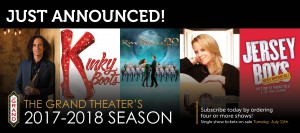 After a record-breaking season with 10 sold-out shows, recognition by Pollstar Magazine as one of the top 175 theaters in the world, and the debut of the 10×10 Series, The Grand Theater is not slowing down. The 23 shows in the 2017-2018 Season have earned a combined 10 Grammy Awards, 10 Tony Awards, 3 Emmy Awards, 12 Top 10 Billboard Hits, and 79 million tickets sold worldwide.
Starting this fall, big things are coming to Wausau. As always, The Grand is bringing world-class Broadway to Central Wisconsin, including two Wausau premiers! Jersey Boys, the 2006 Tony Award winner for Best Musical, tells the story of Rock and Roll Hall of Famers Frankie Valli and the Four Seasons and features all of their classic hits, including "Sherry," "Big Girls Don't Cry," and "December, 1963 (Oh, What a Night)." Tony Award winner Kinky Boots struts into Wausau for the first time in the spring. Featuring songs by pop icon Cyndi Lauper, direction and choreography by two-time Tony winner Jerry Mitchell (Legally Blonde, Hairspray), and a story by four-time Tony winner Harvey Fierstein (La Cage Aux Folles) Kinky Boots is one of the best musicals of the last decade!
Other highlights include everything from dance spectaculars to the most talented musicians of our time. Ten years after their last three sold-out performances in Wausau, Riverdance – The 20th Anniversary World Tour returns to Central Wisconsin to give new audiences a chance to experience to international Irish dance phenomenon. Kansas, one of America's most iconic classic rock bands, will also celebrate an anniversary at The Grand, the 40th anniversary of their multiplatinum album Leftoverture, which features hits like "Carry On Wayward Son." Kenny G, the best-selling instrumental musician of all time, will also come to The Grand for the very first time, as well as five-time Grammy Award winning country legend Mary Chapin Carpenter.
As always, The Grand's season includes a stellar lineup of holiday shows for the whole family, including Wausau traditions like the John Altenburgh Christmas Extravaganza and the Warren Miller Ski Film event, as well as the heartwarming story of All Is Calm: The Christmas Truce of 1914 and a Wild and Swingin' Holiday Party with one of the most popular swing bands on the road today, Big Bad Voodoo Daddy.
The Season will feature everything from Calmus, for aficionados of traditional choral music, to Gobsmacked! for fans of the acappella craze and all things different. Speaking of different, the Red Hot Chilli Pipers combine traditional Scottish folk music with a whole lot of attitude to present bagpipe covers of contemporary hits like "We Will Rock You" by Queen and "Thunderstruck" by ACDC.
The Grand's 2017-2018 Season is sure to have something for everyone, and there is still more to come! To stay up-to-date on new shows being added, the 10×10 series, and exciting pre- and post-show events, sign up for The Grand's email notifications and follow them on Facebook.
---
Season subscriptions are on sale now. Season packages start at just four shows and feature a discount of up to 15% depending on subscription level. Subscribers also receive priority seating, free ticket exchanges, and an invitation to exclusive events. Contact the ticket office at 715.842.0988, online at www.grandtheater.org, or stop in to the Ticket Office at 401 4th Street. Wausau, WI. 54403. Single-show tickets go on sale on July 11, 2017.