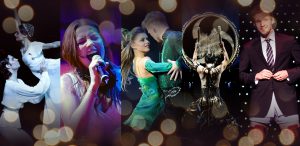 With Christmas right around the corner, The Grand has something for everyone on your Christmas list! From Ballet to Broadway and Irish Dance to Japanese Drumming…you will find just what you are looking for this holiday season at the Grand Theater!
For the person who loves to travel — TAO: Drum Heart
Looking for a gift for the wandering soul in your life? Get transported to Japan with a night of traditional Taiko drumming and the world renowned group, TAO. Their newest show features 27 drummers in a spectacular tour de fource, combining contemporary costumes and dynamic choreography. From the costumes, to the innovative visuals, to the fiery rhythms created…TAO: Drum Heart captures the beauty of Japanese culture and Taiko drumming.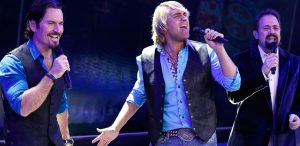 For the music lover — The Texas Tenors
From country, to classical, to pop, to gospel, to Broadway; The Texas Tenors do it all! Originally seen on America's Got Talent, this group has grown to become some of America's favorite tenors. See them live at The Grand as they use breathtaking vocals, humor, and a touch of cowboy charm to create an unforgettable show!
For the one that can literally quote every-single word of the first two Pitch Perfect movies — GOBSMACKED!
We all know that person; the one that has been on the Pitch Perfect train from the very beginning…why not gift them the ULTIMATE a cappella experience? GOBSMACKED! is the groundbreaking a cappella show made up by a troupe of talented vocal musicians and world Beatbox champion BALL-ZEE. With songs of every genre, from the 60's to today's pop and rock hits, this show has it all! Experience the aca-craze live as GOBSMACKED!'s incredible voices, jaw-dropping beatboxing, and heart-stopping harmonies come to The Grand!
For the whole family — The Magic of Bill Blagg LIVE!
Treat your family to a show they will never forget with The Magic of Bill Blagg LIVE! Bill Blagg is quickly earning a reputation as on of the nation's top illusionists, and his brand-new show is packed with mind-blowing tricks that will have you rubbing your eyes in disbelief! People will float in mid-air, vanish in the blink of an eye, and so much more! Through audience interactions and family-friendly fun, your loved ones are sure to have a fantastic evening!
For the Broadway lover — KINKY BOOTS
This is Broadway's huge-hearted, high-heeled hit! Winner of six Tony Awards, including Best Musical, Best Score, and best Choreography (not to mention song by pop icon Cyndi Lauper), KINKY BOOTS has it all! This joyous musical celebration is about the friendships we discover, and the belief that you can change the world when you change your mind. Dubbed as one of the best musicals of the last decade, this show is a must-see for the theater lover on your list!

For the person that never knows what they want for Christmas: Riverdance: The 20th Anniversary World Tour
One of the biggest shows coming to The Grand this season is Riverdance on their 20th Anniversary World Tour! This show really does have something for everyone to love: dance, music, and a truly spectacular experience! Riverdance brings to life Irish culture, propelling Irish traditions into the modern day and sparking the viewers imagination with fantastical costumes, stories, and, of course, dance!
Tickets to these shows and many more are available at The Grand's Ticket Office, by phone at 715-842-0988, or online! Gift Certificates are also available and good for three years; order yours now by clicking here! Check out our holiday hours for the next week below.  Happy holidays to all from the Grand Theater!
 TICKET OFFICE HOLIDAY HOURS:
Friday, December 22nd: 9 AM – 5:30 PM
Saturday, December 23rd: 9 AM – 12 PM
Sunday, December 24th: CLOSED
Monday, December 25th: CLOSED