By Katy Lang, Director of Education and Community Engagement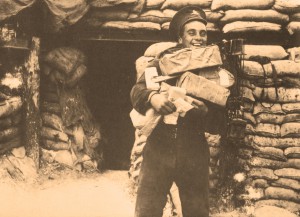 Before you settle in for tomorrow's performance of All Is Calm: The Christmas Truce of 1914 at The Grand, consider stopping by our special WWI Pop-Up Exhibit, featuring photos, documents, and artifacts from the Marathon County Historical Society, the Portage County Historical Society, and local relatives of a WWI veteran.
All Is Calm is a historical play based on first-hand accounts of the monumental moment when Allied and Axis troops decided to come together to celebrate Christmas during the first year of World War I. The play's creative team did an enormous amount of research to assure historical accuracy in their work, and much of their findings were shared with us in a special study guide. As Director of Education, I wanted to make sure our audience had access to these materials, and in the process of collecting and synthesizing this information, I became fascinated with the event and the lives of the soldiers. I wanted to dive deeper and share even more context with you all.
Coincidentally, the Portage County Historical Society has been working extensively on a WWI project for the past year. I decided to take a drive down to the Smith Scarabocchio Art Museum in downtown Stevens Point a week before the opening of their exhibit "Over There: Building Support for the War through Music & Movies," which will be open through March 2018. I've incorporated some of their research into how music was used as propaganda during the Great War, and I encourage all history, music, and film buffs to explore their exhibit further.
While reading some of the first-hand accounts on which All Is Calm based, I found myself wanting more information on life in the trenches, and thought I'd better pay a visit to our friends at the Marathon County Historical Society. They graciously lent us a full WWI uniform (complete with helmet an gas mask), used artillery, art made by soldiers in the trenches, and various other books and artifacts. I can't wait for everyone to see these pieces of history up close!
While sharing my findings with the rest of The Grand's staff, I also learned our General Manager Merry Little has kept nearly all of the wartime possessions of her grandfather, a US artilleryman during the War. Our little pop-up exhibit will showcase these items, including photos, his everyday uniform, his notes on artillery, and the small mementos he kept with him during battle.
I have thoroughly enjoyed delving further into the world of All Is Calm: The Christmas Truce of 1914, and I encourage you take moment to explore these findings in the Great Hall before the show or during intermission.