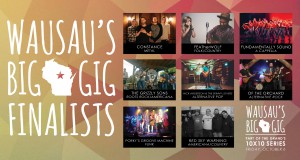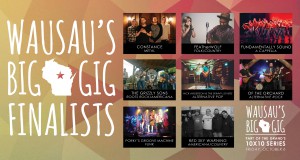 With an outstanding 25 submissions, we are excited to announce our finalists for Wausau's Big Gig – Part of The Grand's 10×10 Series! Thank you to all who applied and a huge congratulations to those who will be joining us this October on stage of the Grand Theater! From A Cappella to Metal and almost everything in between, we've got quite the line-up! Learn more about our finalists below:
---

Constance
Metal
Formed in 2015, Central Wisconsin's Constance brings their unique style to an ever-evolving Midwest music scene. Constance can best be described as a constant interplay between heavy and light – creating their own brand of progressive metalcore. In December 2015, Constance released their debut EP "Revive" and supported the release throughout 2016, heavily playing shows in the Midwest. 2016 also saw the release of their singe "Sentient," which further progressed their unique brand of metalcore. 2017 brings Constance's most ambitious year yet with the writing and planned release of their debut full length album and planned tours to expand their fanbase in the Midwest and beyond.


FEATherWOLF
Folk/Country
FEATherWOLF is a duet project based out of Wisconsin, consisting of Sam Luna and Shaun Marie. Meeting in late 2015, both musicians decided to collaborate and began writing together as a duo. Both bring a unique sound to their shows by singing their own originals of different genres, then coming together to perform original, old country-style duets. Both coming from different parts of the country, they have recently just finished their debut album, To: You, From: Me, a conceptual album that follows the universal story of a relationship between a man and a woman.
Sam and Shaun have also taken their passion for art and music a step further outside of performing and have a nonprofit together. The Hopes & Dreams Foundation of Wisconsin focuses on connecting local artists and musicians with youth in the Fox Cities area to help inspire and promote creativity and collaboration. Currently, they are working closely with the Menasha Boys & Girls Club by providing weekly music and art sessions for the youth members. They hope to continue to spread their programming throughout the US and have already implemented and started in areas of Central America.

Fundamentally Sound
Contemporary A Cappella
Through the power of music, storytelling, and tan suspenders, Fundamentally Sound has captured national attention as UW-Madison's all-male competitive a cappella group. Founded in 2005, Fundamentally Sound continues to push the boundaries of collegiate a cappella with thought-provoking musical arrangements and high-energy performances. Fundamentally Sound, or FS, performs anywhere between coffeehouses and football stadiums, singing for group meetings, company dinners, social gatherings, weddings, university events, international competitions, and more. FS has had the pleasure of leading workshops for student groups and choirs around the Midwest as well as singing with professional groups such as the Sing-Off's most recent winners, Home Free.  FS conveys both passion and fun with each performance, creating a musically diverse and entertaining atmosphere for their audiences.

The Grizzly Sons
Roots Rock/Americana
Red Dirt music with Northwoods roots, that's what The Grizzly Sons play. The first version of the band was formed in Wausau, WI almost 10 years ago. A group of friends couldn't find a style of music that satisfied their love rock, country, and folk…until they discovered "red dirt." Since then the love of the style has pushed them to try and spread the sound to as many people as possible.
A few lineup and names changes since then the band has settled in with Nate Melville on bass, Jim Mijal on drums, Justin Turney on Guitar, and Sam Staples on vocals. The recent addition of Matt Reif on keys has rounded out the band, and helped create the hard driving Red Dirt sound with just the right amount of Northwoods grit that the band has always looked to create.
Nick Anderson & the Skinny Lovers
Alternative Pop
Singer/Songwriter, Alternative, Folk – Nick Anderson has a voice that takes you into the deepest parts of yourself. At the age of 17, he was diagnosed with an anxiety disorder that lead to depression. As he sat in his basement lost in the darkness of his own mind, a song came on the radio that made him feel like he wasn't alone. This moment, along with the tools he discovered to manage his mind, solidified a career in music.
As a mental health advocate, and an honest writer, Nick Anderson plays reflective music that digs deep into the emotion of the millennial dreamer. His influence is drawn from the likes of Ed Sheeran, John Mayer, and James Bay.

Of The Orchard
Alternative Rock
Of The Orchard was founded upon the roots of small town, Wisconsin singer/songwriter, Ben Vanden Boogaard, and his desire to expand from performing as a solo artist to being surrounded by a full band. In the winter of 2017, Ben recruited Lewis Wethall (drums), Alec Thicke (bass/backing vocals), and Zach Ward (guitar) to embark with him on a project called "10 in 10" where the four of them would record, film, and release a new single, accompanied by a music video, every month for 10 months between March 2017 – December 2017. After several months of playing together and many enjoyable social outings later, the four guys began brainstorming a way for everyone to be included in the band name, as the project was originally started under Ben's solo project, Ben Vanden Boogaard. Eventually, Of The Orchard emerged as the favorite, coming from the English translation of Ben's last name: van den boogaard. The band's unique sound combines Ben's singer/songwriter background, Zach's blues/rock lead guitar, and Lewis and Alec's punk rock influences into one cohesive alt-rock unit. As a result, Of The Orchard sounds like a love-child between John Mayer and Third Eye Blind, giving listeners thoughtful lyricism surrounded by melodious indie-rock.

Porky's Groove Machine
Nerd Funk
Porky's Groove Machine is the intergalactic ambassador of Wisconsin's silliest nerd funk. Since forming in the fall of 2011 in Appleton, WI, the group has spent the last five years playing around Wisconsin, touring the Midwest and East Coast twice, and even opening for Guster at Indianapolis's Old Egyptian Room! With a three-piece horn section and an auxiliary percussionist on top of a traditional rock rhythm section, their sophisticated musicality and not-so-sophisticated humor has been described by Julian Loida of WIUX (Bloomington, IN) as "the vibe of the B-52's and the Flaming Lips combined with the sound of Phish, G. Love and Special Sauce, and New Orleans music."

Red Sky Warning
Americana/Country
Established in 2009, Red Sky Warning has been captivating local and regional audiences with their original rock-n-roll show. Soulful lyrics, guitar driven hooks and soaring melodies are driven by an unshakable rhythm section that will rattle your bones like a cold winter night.
The band started out as an acoustic trio and not long after that decided they wanted to keep building on their sound. In the Fall of 2013 the band released their first EP, "Always Dreaming" and they spent the better part of the next year fine tuning their genre-defying sound and live performances. In early 2015 the band returned to the studio to record their first LP, "The Distance Within" at Area44 music in Chicago with Mat Prock at the helm. "The new album is a stellar collection of heartfelt heartland rock and country-tinged songs by a small-town band that doesn't sound like a small-town band." – Randy Erickson, The La Crosse Tribune.
Join us Friday, October 6th as we kick off The Grand's 2017-18 10×10 Series with Wausau's Big Gig. These talented musicians will battle it out on the stage of the historic Grand Theater for the chance to headline their own 10×10 Series Show.  Tickets are just $10 in advance for a full night of music and a vote to help determine the winner! Get your tickets now by clicking here.