Bringing together supernatural themes of the Romantic era and Eastern European folklore, the ballet of Giselle brings to the stage a haunting story of love and betrayal, life and death, vengeance and forgiveness as a young girl descends to the unearthly realm of the Wilis.
The performance opens with an enchanting young girl, in love. In a devastating end to Act I, Giselle's hopes shatter as she discovers her love is already engaged to another; and when the curtain rises on Act II, Giselle is no longer among the living.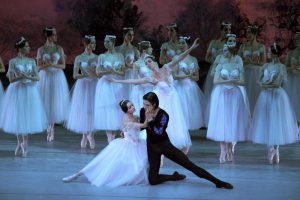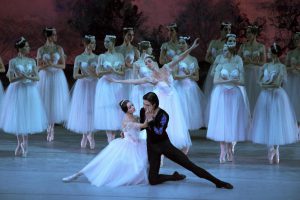 Giving you the willies! The common phrase about something that sends a chill down your spine, may have originated from the ghostly Wilis of Giselle. Inspired by a Slavonic legend of the Wilis, these ghosts are of young maidens who died of grief from betrayal and heartbreak. As the legend goes, their spirits haunt the night, luring young men to dance to their deaths. One variation is found in Harry Potter and the Goblet of Fire with the Veela. In Giselle, the Wilis are frightening, yet tragic figures — young women doomed to perpetual heartbreak.
Going Mad: At the end of Act I, as Giselle discover's Albrecht's betrayal, the girl loses her grip on reality. "She replays in her mind—with halting steps and distracted motions — the daisy scene, where he swore his love to her; she stumbles through the steps of their first pas de deux. Her hair comes down, her anguish on full display. Finally, she dies, from a weak and broken heart," writes Pittsburgh Ballet Theatre's Lisa Auel.

He Loves Me, He Loves Me Not: Featured in Giselle Act I, this schoolgirl daisy game traces its written roots to the pages of a nun's 1471 songbook. As Giselle plucks petals from a daisy in Act I, however, this light-hearted game foreshadows Albrecht's ill-fated betrayal.
Ballet en Blanc: This term refers to scenes that feature the female corps/ghosts costumed in pure white while dancing completely unified choreography. Sometimes referred to as "pure ballet," it emphasizes the larger patterns and dramatic power of the corps. In Act II the ghostly character of the Wilis who (wearing their wedding dresses and veils), move into frightening formations.

The Ballerina's Doppelganger: Similar to Swan Lake's Odette and Odile, the role of Giselle transforms from a simple village girl to a ghostly ethereal essence. The love stricken girl of Act I spirals from jubilation to darkness in the blink of an eye.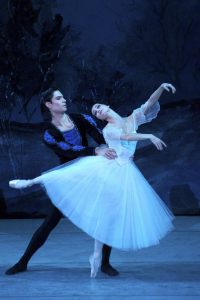 See this hauntingly beautiful rendition of Giselle by the Russian National Ballet as it comes to The Grand Theater Thursday, January 17th. Tickets available at The Grand's Ticket Office or online.
---
Read the original article from the Pittsburgh Ballet Theatre here.