There's a lot that goes into a Cirque Dreams show. With hundreds of imaginative costumes, 20 world-class astonishing acts, the finest singers, and both original music and seasonal favorites, the 2-hour spectacle that is Cirque Dreams Holidaze is much more than a simple acrobatic performance.
Click above to watch a behind the scenes look through the eyes of the shows performers! (Warning, the following video follows acrobats performing, and includes spinning, flipping, and heights)
Cirque Dreams is a massively successful touring company that has entertained millions of people all over the world. For more than 25 years, creator and Artistic Director Neil Goldberg (who has also produced two Super Bowls as well as shows for the NBA, Disney, Busch Gardens, Six Flags, Miss Universe, and every major television network) has churned out dozens of spectacular cirque shows from Dream Studios, their production facility in Pompano Beach, FL.
50 million people worldwide have seen a Cirque Dreams show
Dream Studios is a 25,000 sq. ft. facility
250 artists are a part of the Cirque Dreams company, with 30 performing in each show
The company has produced 15 shows, 20 scores, dozens of sets, thousands of variety acts, and 10,000 award-winning costumes over the years
The Cirque Dreams Holidaze show was inspired by Neil Goldberg's childhood Christmas ornament collection. The son of textiles merchants, Goldberg has always been fascinated by costumes, and decided one day that he would create a theatrical Christmas extravaganza, with each scene stemming from one of his ornaments and the way they were dressed.
There are over 10,000 ornaments in Neil Goldberg's Christmas ornament collection
Over 500 costumes are featured in the Cirque Dreams Holidaze show, from candy canes to reindeer, toy soldiers to penguins, Christmas cookies, fairies, and even Santa and Mrs. Claus themselves.
More than 10,000 Swarovski crystals, rhinestones, and beads were used to adorn the costumes worn in this show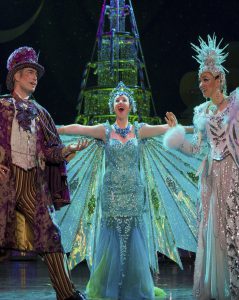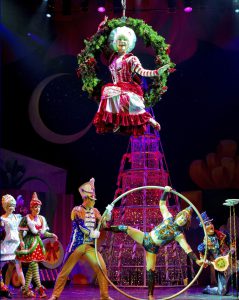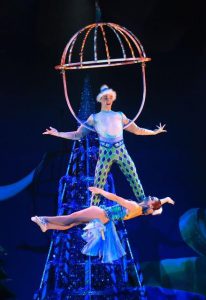 In addition to the breathtaking costumes, audiences are consistently wowed by the elaborate sets used in each Cirque Dreams show. Goldberg wanted there to be lots of variety in the Cirque Dreams Holidaze scenic design. "Each scene takes you to a different place," said Goldberg. "The North Pole, angels on Holy Night, toy soldiers. For the Hanukkah scene there are candles balancing on somebody's head. For New Year's Eve there's a contortionist inside a giant champagne glass. Reindeer pull a sleigh across the stage, then turn into jump-rope athletes."
Cirque Dreams Holidaze is made up of 20 scenes, each with its own storyline
The main set cost $1.5 Million to build
The set features a massive 24-foot steel-frame Christmas tree, with performers hanging from it like ornaments
One particularly impressive scene turns the stage into a gingerbread house with a 24-foot Gingerbread Man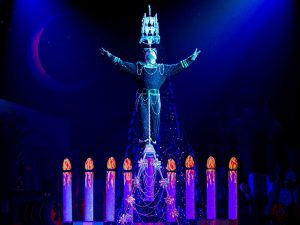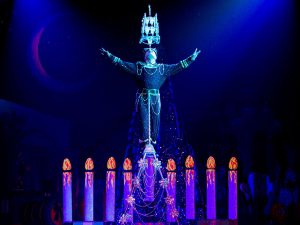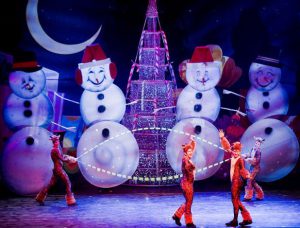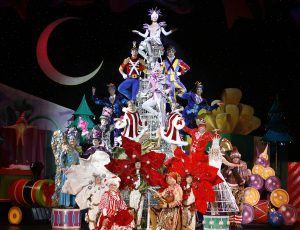 While the photos and statistics are certainly impressive, there is nothing quite like seeing the magic of Cirque Dreams Holidaze live. Luckily, due to popular demand, an additional performance of the electrifying stage spectacular has been added on Tuesday, November 19th!
Don't miss your chance to experience the critically-acclaimed extravaganza that wraps a Broadway musical and cirque adventure into the ultimate holiday gift for the entire family!