Singer/songwriter RaeLynn is one of the hottest names in country today. Since her start on NBC's The Voice in 2012, RaeLynn has released numerous hit singles and critically claimed albums; has toured and collaborated with countless country artists including Blake Shelton, Sara Evans, Florida Georgia Line, Scotty McCreery, and Kane Brown; and has toured across the globe.
9 things you may not know about up-and-coming country star, RaeLynn:
1. From Baytown, Texas, RaeLynn was born Racheal Lynn Woodward. However, friends and family had always called her RaeLynn when she was growing up, so she stuck with it when she auditioned for season two of The Voice. She dropped her last name to try out being a one-name star, such as Madonna and Cher.

2. At just 17 years of age, she came into the spotlight as a contestant during the second season of NBC's The Voice where she was coached by country music star Blake Shelton.
3. She sang background vocals for Blake Shelton's 2013 single "Boys 'Round Here."
4. RaeLynn wrote the newly released single "Tailgate" with Canaan Smith, Corey Crowder and Florida Georgia Line's Tyler Hubbard.

5. RaeLynn considers Miley Cyrus's inspirational tune "The Climb" "one of the best songs" ever written.

6. Sweeney Todd is one of her favorite musicals.
7. At age 12 RaeLynn was diagnosed with Type 1 diabetes. Today the artist has become a spokesperson in raising awareness of juvenile diabetes as well as starting the RaeLynn Diabetes Fund, created to offer support, empowerment, and a community, for all of those facing diabetes, as well as raising funds to support those whose lives are impacted by type 1, type 2, and juvenile diabetes.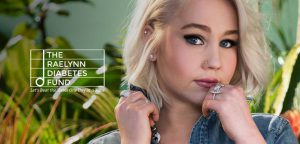 8. For Halloween one year she dressed as a redneck fairy with a beard. Another year, RaeLynn dressed as Voice-coach Blake Sheldon. 
9. RaeLynn once went around Nashville wearing a unicorn onesie after promising fans she'd do so when she reached 100,000 followers on Instagram.
With tickets starting at just $25, you won't want to miss one of the next hottest stars of country. It's the perfect show to bring the family to or grab your closest girl friends for a night out. Tickets are now available for RaeLynn's performance at The Grand Theater! Get yours now at The Grand Theater's Ticket Office or online at www.grandtheater.org.