From their BILLIONS of views and followers online to selling out venues across the globe, Postmodern Jukebox is one of the biggest names in music today. Since the group's creation in 2011 by pianist and arranger Scott Bradlee, Postmodern Jukebox has collaborated with dozens of talented musicians including, Casey Abrams (American Idol Season 10), Noah Guthrie (Glee), Haley Reinhart (American Idol Season 10), and Puddles Pity Party.
Understanding Postmodern Jukebox a Little Bit More with 5 Fast Facts:
1. There's a book written by Postmodern Jukebox creator Scott Bradlee called Outside the Jukebox: How I Turned My Vintage Music Obsession into My Dream Gig.

2. The Postmodern Jukebox YouTube channel boasts more than 3.5 million subscribers and over a billion views.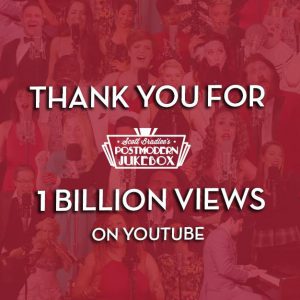 3. Scott Bradlee used to crash parties dressed as Thomas Jefferson; the original stage performance of Postmodern Jukebox was called "Thomas Jefferson and His Ragtime Orchestra."
4. Every year Postmodern Jukebox conducts a contest searching for hidden musical talent. Winners star in a Postmodern Jukebox video and could potentially go on tour with the group.
5. The group made a video, "A Motown Tribute to Nickelback," in response to an internet petition over 55,000 people signed calling to ban music group Nickelback from performing at the Thanksgiving halftime show for the Detroit Lions.
From the history buff to the Nickleback fans, Postmodern Jukebox truly has something for everyone. Tickets are still available for Postmodern Jukebox's show at The Grand Theater this October! Get yours now at The Grand Theater's Ticket Office or online at www.grandtheater.org.